The Raquelle Mansion

Info
Official Description
It's all about taste. Some call this Malibu mansion gorgeous and others call it tacky. But everybody says the Dreamhouse overshadows it. So now Raquelle constantly updates the mansion with new cutting-edge style to keep up with Barbie and her fab pad.
Type
House
Known Rooms
Confessional Couch, Pool, Bathroom
Inhabitants
Raquelle
Next to
The House of Ken, The House of Nikki

Image Gallery
The Raquelle Mansion is the name of the mansion that Raquelle currently lives in. It's in between The House of Ken and The House of Nikki. It is a Victorian style house, featuring auburn shingled roofs, purple walls, and a pool. There are palm trees, tall bushes and purple flowers decorating the property. Raquelle feels the need to constantly update the mansion to rival the Barbie Dreamhouse. She owns some of the same things as Barbie, but on a smaller scale.
Rooms
Bathroom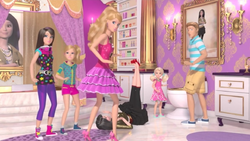 Her bathroom shows up once in Accidentally on Porpoise, and is shown to have a toilet with a gold lid and a picture of herself behind it. It also has a counter that seems to have lots of cosmetic bottles, but are all just stickers. It also has a purple curtain probably leading to a bath/shower, and all the lights are little (probably fake) candles. It also has many other pictures of Raquelle around the bathroom, and has a purple lamp near the entrance, along with a gold mirror. The door is white with crystal handles.
Confessional Couch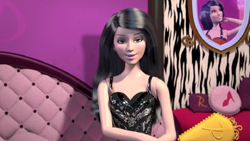 Raquelle's confessional couch is a chaise lounge chair, identical to Barbie's and Teresa's. It is in front of purple wallpaper with slightly darker purple "R"s on it, a cushion with some pillows and a picture of Raquelle in her red formal dress on the right, and a bust of Raquelle on the left. Once, though, she moved her chaise lounge to the beach, where she did her confessionals there instead.
Quotes
Location Guide
Life in the Dreamhouse

—

locations
Malibu

The Ryan Mansion
The House of Ken
The House of Nikki
Casa de Teresa
The Beach
Campgrounds
The Barbie Dreamhouse

Main
Dreamhouse Foyer
Dreamhouse Living Room
Dreamhouse Kitchen
Dreamhouse Garage
The Barbie Bathroom
The Barbie Bedroom
The Barbie Closet
Bedroom for Chelsea
The Mall

Main
The Barbie Boutique
The Raquelle Boutique
The Restaurant
Chelsea's Lemonadory
Other

Space
Tiki Resort
TV Studio
Paris
The Alps
New York
Beijing
London
The Arctic
India
Ad blocker interference detected!
Wikia is a free-to-use site that makes money from advertising. We have a modified experience for viewers using ad blockers

Wikia is not accessible if you've made further modifications. Remove the custom ad blocker rule(s) and the page will load as expected.