'Bold text'Bold text'
The House of Ken

Info
Official Description
This cool beach pad is the home of Ken. The surf décor fits this true-blue guy and gives him a place to chill, think about Barbie and think about the things he can do and the crazy gadgets he can make for Barbie.
Type
House
Known Rooms
Bathroom, Confessional Couch, Living Room, Garage
Inhabitants
Ken
Next to
The Barbie Dreamhouse, The Raquelle Mansion

Image Gallery
The House of Ken is the name of the mansion that Ken currently lives in. Situated in between The Barbie Dreamhouse and The Raquelle Mansion, The House of Ken is a Googie style house, featuring angled roofs and box-like design.
There is a two-car garage on the left hand side, as well as a pool with a large zig-zag pattern cut out of one corner. The exterior walls are primarily blue with a lot of large glass windows, however there is a white striped decorative wall running up the right hand side of the house.
We have yet to see the outside of Ken's house in the series, besides its drawing on the map.
Rooms Bathroom
Ken's bathroom is colored blue, like the rest of his house. His shower curtain has a wave pattern on it, the same pattern that is repeated on the wall behind his confessional couch. A small portrait of him and Barbie sits above a large towel rack and a gold mirror is located on the opposite wall.
Confessional Couch
Ken's confessional couch is a modern black leather two-person sofa, identical to the ones Ryan and Nikki have. It is situated in front of a wall displaying a wave pattern - to the right is a surfboard and to the left is a mirror fixed to the wall. There is also a large blue-gray coffee table in front of the couch.
Ken's living room is first seen in Primp My Ride. It has a black circular table with two couches and a backless chair around it. It also has a staircase leading to the second story.
[[link title]Italic text]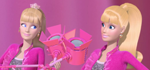 ==Location Guide==
Life in the Dreamhouse

—

locations
Malibu

The Ryan Mansion
The House of Ken
The House of Nikki
Casa de Teresa
The Beach
Campgrounds
The Barbie Dreamhouse

Main
Dreamhouse Foyer
Dreamhouse Living Room
Dreamhouse Kitchen
Dreamhouse Garage
The Barbie Bathroom
The Barbie Bedroom
The Barbie Closet
Bedroom for Chelsea
The Mall

Main
The Barbie Boutique
The Raquelle Boutique
The Restaurant
Chelsea's Lemonadory
Other

Space
Tiki Resort
TV Studio
Paris
The Alps
New York
Beijing
London
The Arctic
India
Ad blocker interference detected!
Wikia is a free-to-use site that makes money from advertising. We have a modified experience for viewers using ad blockers

Wikia is not accessible if you've made further modifications. Remove the custom ad blocker rule(s) and the page will load as expected.