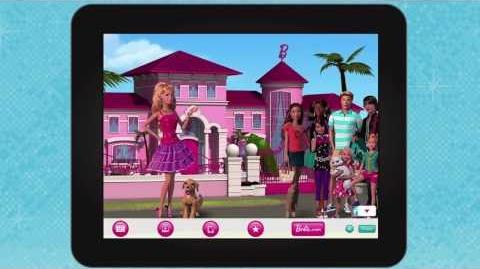 Barbie Life is an application by Mattel based on the show. It was released on April 2, 2014 for Android phones and tablets. It can be bought here.
Description
Welcome to Barbie Life™!
Get the best of Barbie® digital content all at your fingertips... watch a hilarious episode of Barbie™ Life in The Dreamhouse, edit photos in the 'Dream Book' or explore the Dreamhouse™.
So come in, have fun and get ready to live the Barbie Life™!
● EASY TO USE: Swipe to explore great content! Check back often for updates!
● BARBIE LIFE IN THE DREAMHOUSE: Ever wondered what a Schlond Poofa is? Check out the video that started it all!
● MUSIC: Sing along with some of the greatest hits from your favorite Barbie™ movies!
● MOVIES: Connect to Barbie™ movies and meet our characters!
● WALLPAPERS: Download Barbie® wallpapers for your tablet or smartphone.
● CONNECT: Visit Barbie.com and keep up with all the latest from Barbie®!
Download Barbie Life today! It's amaze!
Ad blocker interference detected!
Wikia is a free-to-use site that makes money from advertising. We have a modified experience for viewers using ad blockers

Wikia is not accessible if you've made further modifications. Remove the custom ad blocker rule(s) and the page will load as expected.