Ad blocker interference detected!
Wikia is a free-to-use site that makes money from advertising. We have a modified experience for viewers using ad blockers

Wikia is not accessible if you've made further modifications. Remove the custom ad blocker rule(s) and the page will load as expected.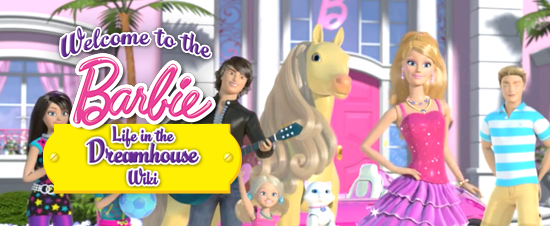 The Life in the Dreamhouse Wiki is a handy encyclopedia about the Barbie: Life in the Dreamhouse webseries that anyone can edit. It was established in July 2012, and currently has 276 Dreamhouse related articles! Be sure to check out the sandbox to practice your editing skills, and help out in any way you can.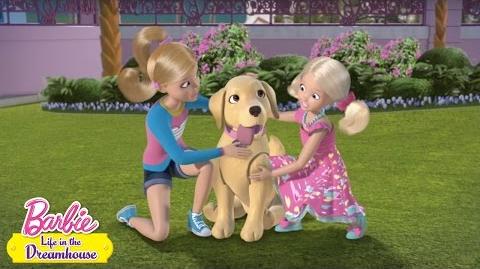 Season 7
has begun! Hopefully with a new season, episodes will get back on a regular schedule.
Who's your favorite main adult character?
276 articles since July 2012
718 images uploaded since July 2012
25,728 edits made since July 2012
Create blog post
Blogs
...and can be accessed here: http://dreamhouse.barbie.com/pl/episodes

note: most of the links on the page will redirect to the new barbie.com site, ho…

Read more >
See more >
Life in the Dreamhouse

—

characters
Main Characters

Barbie
Ken
Raquelle
Ryan
Nikki
Teresa
Midge
Summer
Grace
Skipper
Stacie
Chelsea
Tawny
Taffy
Blissa
Other Characters

Animals

Fish
Bear
Oyster
Dolphins
Hudson
Brunhilde

Robots

Tennis Robot
Shoe Robot
Closet
Life in the Dreamhouse

—

episodes
Season 1

Episode 1
Closet Princess
Episode 2
Happy Birthday Chelsea
Episode 3
Pet Peeve
Episode 4
Rhapsody in Buttercream
Episode 5
Ken-tastic, Hair-tastic
Episode 6
Party Foul
Episode 7
Day at the Beach
Episode 8
Sticker It Up
Episode 9
Oh How Campy
Episode 10
Bad Hair Day
Episode 11
Licensed to Drive
Episode 12
I Want My BTV
Episode 13
Gifts, Goofs, Galore
Episode 14
The Barbie Boutique
Extra 1
Fan Mail
Extra 2
Barbie Technical Institute
Extra 3
Sand Away
Extra 4
Ken and Robot
Season 2

Episode 1
The Reunion Show
Episode 2
Closet Princess 2.0
Episode 3
Sisters Ahoy
Episode 4
The Shrinkerator
Episode 5
Plethora Of Puppies
Episode 6
Closet Clothes Out
Episode 7
Accidentally on Porpoise
Episode 8
Gone Glitter Gone - Part 1
Episode 9
Gone Glitter Gone - Part 2
Extra 1
Ryan's Greatest Hits
Extra 2
Everybody Needs A Ken
Season 3

Episode 1
Playing Heart to Get
Episode 2
Catty On The Catwalk
Episode 3
Help Wanted
Episode 4
A Spooky Sleepover
Episode 5
A Smidge of Midge
Episode 6
Occupational Hazards
Episode 7
Ooh How Campy, Too
Episode 8
Let's Make A Doll
Season 4

Episode 1
Endless Summer
Episode 2
Sour Loser
Episode 3
Another Day at the Beach
Episode 4
Happy Bathday to You
Episode 5
Cringing in the Rain
Episode 6
The Ken Den
Episode 7
Primp My Ride
Episode 8
Mall Mayhem
Episode 9
The Upgradening
Season 5

/

Nick Specials

Episode 1
Doctor Barbie
Episode 2
Stuck With You
Episode 3
The Only Way to Fly
Episode 4 / Special 2
Perf Pool Party
Episode 5 / Special 1
Trapped in the Dreamhouse
Season 6

Episode 1
Style Super Squad - Part 1
Episode 2
Style Super Squad - Part 2
Episode 3
Little Bad Dress
Episode 4
Going to the Dogs
Episode 5
Dream A Little Dreamhouse
Episode 6
Mayor of Malibu
Episode 7
Bizzaro Barbie
Episode 8
Doll Vs. Dessert
Episode 9
Going Viral
Episode 10
Girls Day Out
Episode 11
Business is Barking
Episode 12
When the Cat's Away
Episode 13
Ice Ice, Barbie, Pt. 1
Episode 14
Ice Ice, Barbie, Pt. 2
Episode 15
The Amaze Chase
Episode 16
New Girl in Town
Episode 17
Malibu's Empirical Emporium
Season 7

Episode 1
Red Carpet Caper
Episode 2
Mission Impawsible
Episode 3
The Telethon
Episode 4
Don't Bet On It
Episode 5
Dissin' Cousins
Episode 6
Alone In the Dreamhouse
Episode 7
Mooning Over You
Episode 8
Sidewalk Showdown
File:Navbox 0709.png
Episode 9
Sister's Fun Day
Episode 10
Send in the Clones - Part 1
Episode 11
Send in the Clones - Part 2
Episode 12
Send in the Clones - Part 3
File:Navbox 0713.png
Episode 13
The Fantasticest Journey
Life in the Dreamhouse

—

locations
Malibu

The Ryan Mansion
The House of Ken
The House of Nikki
Casa de Teresa
The Beach
Campgrounds
The Barbie Dreamhouse

Main
Dreamhouse Foyer
Dreamhouse Living Room
Dreamhouse Kitchen
Dreamhouse Garage
The Barbie Bathroom
The Barbie Bedroom
The Barbie Closet
Bedroom for Chelsea
The Mall

Main
The Barbie Boutique
The Raquelle Boutique
The Restaurant
Chelsea's Lemonadory
Other

Space
Tiki Resort
TV Studio
Paris
The Alps
New York
Beijing
London
The Arctic
India