Barbara "Barbie" Millicent Roberts
Info
Species
Human-Sized Doll
Gender
Female
Occupation
Current owner of The Barbie Boutique, race car driver, presidential nominee, astronaut, doctor, pilot, flight attendant, and at least 135 others.
Eyes
Blue
Hair
Blond
Relatives
Georgia and Martha Roberts (parents; mentioned in Let's Make A Doll); Skipper, Stacie, Chelsea (Sisters)
Home
The Barbie Dreamhouse
Voice Actor
Kate Higgins
B Friends Info
Likes
hanging with her friends and sisters, cutting-edge fashion, acting/modeling, fan mail, dance parties, her pets, pink
Dislikes
Negative attitudes, upsetting a friend, bad hair days, fashion emergencies/disasters, losing her phone
Stats

135 careers (so far!)
5,748 square feet of closet space
10,529,642 fan letters received

Image Gallery
Barbara "Barbie" Millicent Roberts is the title character and the main protagonist of Barbie: Life in the Dreamhouse. She lives in the Dreamhouse with her sisters Skipper, Stacie and Chelsea, as well as her pets Blissa the cat, Taffy the dog, and Tawny the horse.
Official Description
Let's face it — Barbie is the doll who has it all. She's a fashion icon who has a fab home, the best friends and the perfect guy who's nuts about her. She's great at everything, while remaining humble and kind, and is always there to cheer on her friends no matter the challenges. That's why everyone loves her.
Relationships
Appearances
Website Gallery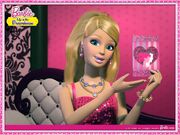 Family Tree
                          George Roberts──┬──Martha Roberts
                                          │
            ┌─────────────────────┬───────┴───────┬───────────────┐
Barbara Millicent Roberts  Skipper Roberts  Stacie Roberts  Chelsea Roberts

Trivia
It is revealed in A Smidge of Midge that Barbie grew up in Willows, Wisconsin.
Barbie loves to walk in the rain, and sometimes does so with The Prince of England, as revealed in "Cringing in the Rain". She mumbles under her breath that the prince is a bit of an umbrella hog.
Barbie is the role model of every girl in Malibu, with the exception of Raquelle.
Barbie's 32nd favorite career is being flight attendant, as mentioned in Closet Clothes Out.
Barbie's favorite movie is Sad and Romantic the Sequel, as mentioned in Occupational Hazards.
Barbie is currently ambassador to a race of aliens.
Barbie is currently president.
It is not clearly stated how old Barbie is, but it must be considerably old as her friends have forgotten how old Barbie even is. In doll years, she is a young adult.
In Let's Make A Doll, it is mentioned that if she was an ice cream flavor, she'd be pink.
She was a doctor also.
She went to the moon.
Character Guide
Life in the Dreamhouse

—

characters
Main Characters

Barbie
Ken
Raquelle
Ryan
Nikki
Teresa
Midge
Summer
Grace
Skipper
Stacie
Chelsea
Tawny
Taffy
Blissa
Other Characters

Animals

Fish
Bear
Oyster
Dolphins
Hudson
Brunhilde

Robots

Tennis Robot
Shoe Robot
Closet
Ad blocker interference detected!
Wikia is a free-to-use site that makes money from advertising. We have a modified experience for viewers using ad blockers

Wikia is not accessible if you've made further modifications. Remove the custom ad blocker rule(s) and the page will load as expected.